Regular price
$84.99 USD
Sale price
$44.99 USD
Unit price
per
Sale
Sold out
🏷️ Purchase the ebook
🔗 Receive Download links in your Email from BookFunnel
📱 Send to your Preferred Reading Device (including Kindle, Nook, Kobo, Tablet, etc) and Enjoy!
❤️ Any problems, just shoot me an email at leacollauthor@gmail.com
View full details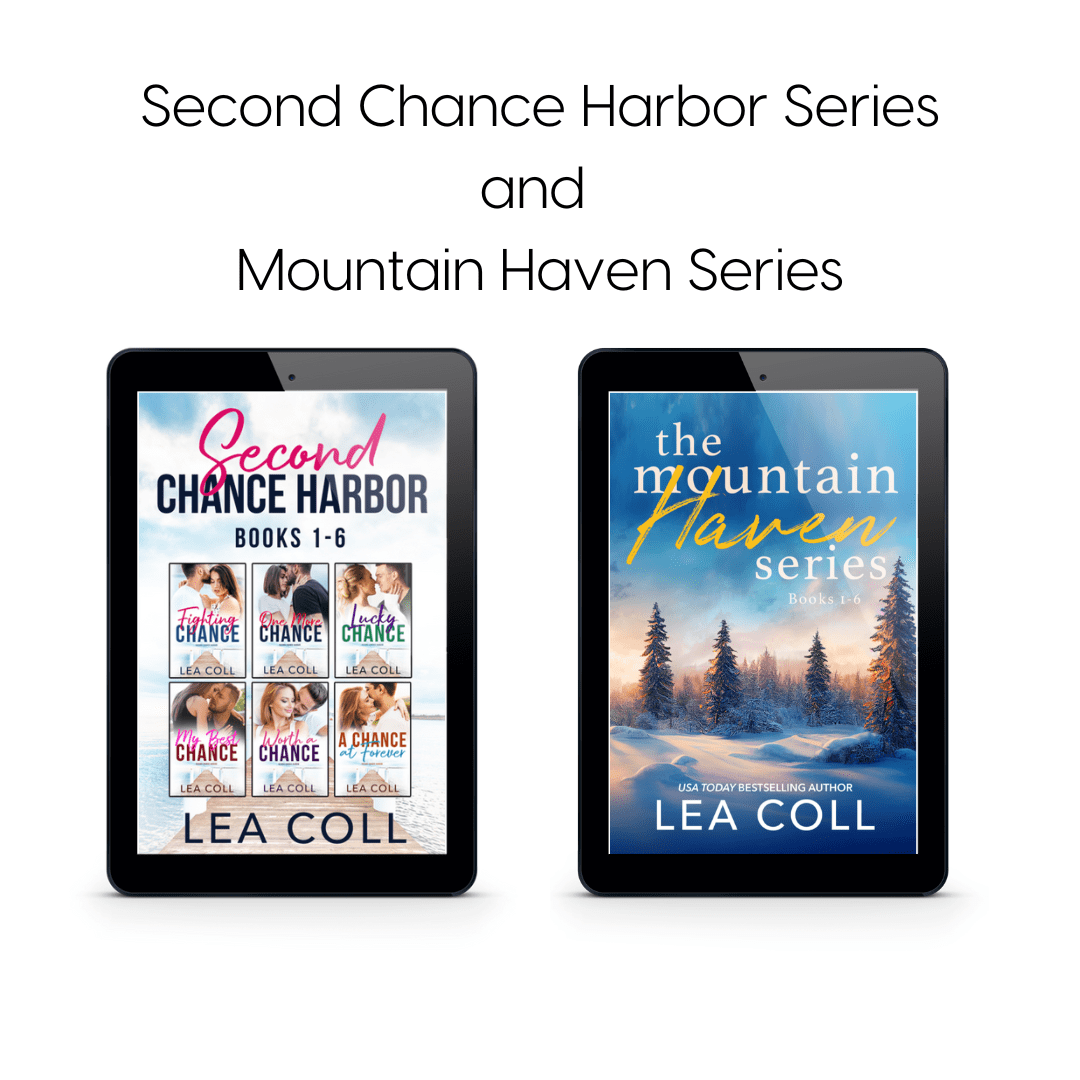 BOGO FREE Deal. Buy the Second Chance Harbor Series, and get the Mountain Haven Series FREE! This deal includes 12 books and 4 novellas.

Chance Encounter: (A Prequel Novella) It's been years since I last saw Ethan. I never imagined the muscular, tattooed man he'd grow up to be. But no matter how hot he was, I had to resist the temptation he presented.
Fighting Chance: I'm not bitter that Savannah St. James rejected me in high school. It's her cluttered storefront I have a problem with. Still, it's hard to stay mad at her when she's more beautiful than I remember and her son keeps finding new ways to sneak over to my hardware store every chance he gets.

One More Chance: Telling everyone my best friend, Max, and I are dating was a panic move. We were polar opposites. A tattooed bar owner and a strait-laced math teacher. Who'd actually believe it? I knew he'd play along, though.

Lucky Chance: Colton Castle and I are nothing alike. But when there's trouble in my neighborhood, he's everywhere I turn, looking sexy in his uniform. I start to see a different side of him. He's protective and caring. And makes my heart race. There's a problem: he's my sister's ex, which means he's completely off limits.

My Best Chance: I've put my rebellious years behind me and I'm finally doing something I can be proud of. Single-parenting my son and opening a garage with my best friend has given me a fresh start. One that came with an unexpected attraction to my best friend's sister. Her brother warned her against guys like me, but the more time I spend with her, the more I want her.

Worth a Chance: From lemonade stand wars as kids to competing coffee shops as adults, Ben always finds ways to get under my skin. But, no matter how he pushes my buttons, I refuse to let him ruin my business. Of course, there is the matter of his adorable seven-year-old daughter he's now struggling to raise on his own. I want to keep him in the familiar enemy-zone, but his little girl is melting my heart.

A Chance at Forever: Enlisting was one of my life goals, so was marrying my high school sweetheart, Sophie, and escaping our small town. Nothing has ever hurt me more than when she turned down my proposal. I might not have made the right decisions all those years ago, but this time I'm going to prove to Sophie that I'm the right man for her. A future without her simply isn't an option.
Fleeting Chance Novella: When I'm caught in a storm, my childhood friend and crush, Easton, rescues me. Now we're stuck in his house for the night. He's grown into a scorching hot man who can fill out a suit. I'm tempted to give into the impulse to enjoy one night together. Unfortunately, my heart wants more. Should I reveal to him my life-long crush, or will I lose my chance forever?
Irresistible Chance Novella: I needed to find a way to this six-foot-something tall broad-shouldered police officer out of my system, or each time he came into my vet clinic with a stray animal, I'd be mush in his hands. He was literally irresistible.
Escape to Love Prequel: The plan was to keep my head down, open my barbershop, make it a success, and prove the producers wrong. I could be a successful woman without the cameras pointed at me. I could earn money for something besides selling myself out on TV. And I could do it in a sleepy little Colorado town, where no one cares who I am, and I can chase my dreams. There is nothing to distract me from my goal. Running into him was a surprise, and a temptation—one I didn't need.
Infamous Love: When I meet the new sexy veterinarian, his gruff voice and grumpy manner get my blood pumping. For the first time in my life, cameras aren't broadcasting my every move. No producer is telling me what to say or do. No one's pushing me toward him. This natural gravitation toward him is the realest thing I've ever felt. But when my past collides with my present, everything comes crashing down around me.

Adventurous Love: I don't do small town, country living. The hustle and bustle of New York pumps through my veins. Still, when a dear friend invited me to stand up in her wedding, I decided to embrace all Colorado had to offer. I was expecting mountainous terrain and outdoor adventures. Instead, I found myself face to face with the ruggedly handsome Henry Rigby—a lumberjack fantasy come to life. It was supposed to be a short trip. Yet the time we spent together made New York seem farther and farther away...

Impulsive Love: I met the rookie baseball player with piercing blue eyes and a Southern drawl on my first day as a tour guide. Colin Winters was only supposed to be a one-night impulsive indulgence. Instead, the easy connection between us became an addiction. Then, two blue lines change everything...
Tempting Love:  Accepting a nanny position seemed like a good way to escape my past. To prove I'd changed. I never counted on Sam, my new boss. I want to ignore my attraction to him, but it's impossible with us living in the same house. He's dangerous because he makes me think that anything's possible. Even a future with him and Maggie. Can I take a gamble with him and hope my past doesn't catch up with the future I'm racing towards?
Inescapable Love: Happily ever after wasn't for me. Instead, I focused on being my niece's favorite uncle. Until Natalie and her daughter. Recently divorced, she's determined to open a bed and breakfast and hires me to renovate it. I should be focused on the job, but instead I'm distracted by the undeniable attraction between us.
Forbidden Love: The younger sister to four older brothers, I was off-limits to every guy in town—especially my brothers' best friend. At a fundraising event at my family's ski resort, Tyler approached me with an offer to partner together to raise money for charity. Desperate to find my footing and prove to my father that I deserved a position in his company, I agreed to Tyler's proposition. Our task was simple: Construct dugouts for local softball teams. Instead, our shared moments were filled with stolen kisses in the outfield, surrendering to the undeniable spark between us.
BookFunnel will instantly deliver these ebooks by email.